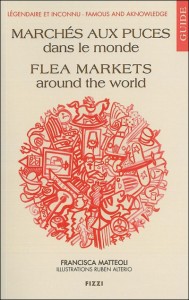 Museums may be a great introduction to a city but Francisca Mattéoli prefers strolling in flea markets. Legendary or unknown, small or sprawling, popular or posh, she takes us over the continents discovering all sorts of treasures, to a city, to a corner of the world for a few hours or a week-end…
An unconventional guide-book for collectors, travellers and all those who wish to discover a country differently. And to top this, for every destination a charming hotel, a special restaurant, haunts just in case that after the treasure hunt you have not finished with adventure !
---
Guide des Marchés aux Puces dans le Monde
On peut connaître une ville en commençant par ses musées. Francisca Mattéoli préfère flâner dans les marchés aux puces. Légendaires ou inconnus, minuscules ou tentaculaires, populaires ou chic, elle nous entraîne sur tous les continents, à la découverte de trésors en tout genre, d une ville, d un coin du monde, pour quelques heures ou un week-end… Poufs Niemeyer à Rio, vinyles des Red Hot Chili Peppers à Los Angeles, kimonos précieux à Tokyo, argenterie victorienne à Londres, délirantes statuettes de Mao à Hong Kong, haute couture vintage à Paris… A chaque escale, son lot de surprises, un regard décalé, un clin d'œil personnel, des conseils pour trouver son bonheur et se fondre dans l'ambiance. Un livre-guide atypique pour les chineurs, les voyageurs et tous ceux qui veulent découvrir un pays autrement. Un livre qui marie allègrement les styles, les époques, les cultures, les rencontres humaines et les belles trouvailles. Avec, en prime, pour chaque destination, un hôtel de charme, un restaurant inattendu ou des adresses réjouissantes, au cas où, après la chine, vous n'en auriez pas fini avec l'aventure.
# 192 pages
# Éditeur: FIZZI EDITIONS (18/03/2009)
# Français/Anglais
# ISBN-10: 2353360149
# ISBN-13: 978-2353360147