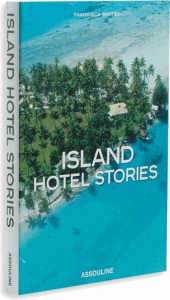 Everyone dreams of living on an island, perhaps for just a few days, or a month, a year or even forever… Islands fascinate us and fill us with wonder. Even just thinking about an island can give people pleasure. Roberto Rossellini and Ingrid Bergman loved Stromboli. Spielberg took Indiana Jones to the jungles of Sri Lanka. Jacques Brel sang the beauty of the Marquesas Islands. Princess Margaret found peace and tranquillity in Mustique. Marlon Brando and Paul-Emile Victor made their homes in Polynesia. Richard Branson and other modern-day adventurers have actually bought the islands of their dreams, renting them out or transforming them into island-hotels. Tiny islets or vast expanses, famous or secret, lush and tropical or bare and windswept, they all attract the traveler.
This is a book for dreamers, for travelers, and for anyone who wants to learn about the history of these islands and open their minds to adventure, tropical sun, jungles, lagoons, forgotten creeks and fabulous hotels.
# 208 pages – 150 images
# Publisher: Assouline
# Édition: illustrated edition (02/10/2003)
# English
# ISBN-10: 2843234484
# ISBN-13: 978-2843234484
---
Des hôtels et des îles
Qui n'a pas rêvé de vivre sur une île, quelques heures, un mois, des années, toute la vie. Les îles fascinent, émerveillent, et le simple fait de les évoquer nous transporte à l'autre bout du monde. Roberto Rossellini et Ingrid Bergman se sont aimés à Stromboli. Steven Spielberg a emmené son Indiana Jones dans la jungle sri lankaise. Jacques Brel a chanté les marquises. Marlon Brando et Paul-Emile Victor ont fait leur vie en Polynésie. Richard Branson et d'autres aventuriers des temps modernes ont acheté l'île de leurs rêves qu'ils ont convertie en hôtel. Célèbres ou secrètes, tropicales ou méditerranéennes, grandes ou microscopiques, toutes les îles de ce livre ont une histoire à raconter et abritent un hôtel qui vaut le détour. Antidote à la routine et au béton, ce guide des îles est un véritable passeport pour l'antistress.
# 206 pages
# Éditeur: Éditions Assouline (02/10/2003)
# Français
# ISBN-10: 2843235340
# ISBN-13: 978-2843235344