Scroll down for the English version
J'ai eu beaucoup de mal à faire une sélection des photos de cet été que Bertrand et moi avons passé au Botswana et en Afrique du Sud. Nous avons décidé d'aller dans des pays que nous ne connaissions pas – l'Afrique du Sud était la première destination – et puisque nous allions atterrir à Johannesburg, nous avons pensé que nous pouvions aller aussi au Botswana qui n'est pas très loin (1h16 de vol exactement).
Ce qui m'a vraiment frappé à Johannesburg, est le fait que la ville est à la fois délabrée et neuve, en ruine et en construction. A ce que j'ai pu voir, ce n'est pas une belle ville, mais elle m'a touchée par ses immeubles laissés à l'abandon (la plupart datant des années 70 ou 80) et si je vous en parle, c'est aussi parce que j'ai remarqué que beaucoup de gens qui viennent visiter l'Afrique du Sud vont directement à Cape Town et ne s'arrêtent pas dans cette ville qui est pourtant, à mon avis, une étape clé pour comprendre l'Afrique du Sud. Il a bien-sûr son histoire et tout ce qui la lie à la vie et au combat de Mandela, mais aussi une énergie qui montre qu'elle va de l'avant, avec des quartiers remplis de galeries et de bistrots branchés comme le complexe 44 Stanley.
J'ai pris cette photo dans le centre, entre Fox et Rissik Street, un coin où les immeubles donnent l'impression d'être restés dans les années 50. Nous avons quitté le quartier élégant où se trouvait notre hôtel The Saxon, et sommes arrivés dans ce quartier d'une autre époque, grouillant de monde et de races mélangées. C'était vraiment étonnant. Cette fresque est l'œuvre de l'artiste Faith 47 et je dois dire que je l'ai trouvée d'une poésie fantastique au milieu des façades en ruines et des rues défoncées. Je trouve qu'elle résume tout à fait la ville que j'ai vue, la « savane urbaine » que j'espère vous aimerez aussi.
PS : MAP STORIES est maintenant disponible en anglais et beaucoup d'autres langues. Vous pouvez le pré-commander sur Amazon/Barnes&Noble/WHSmith/etc.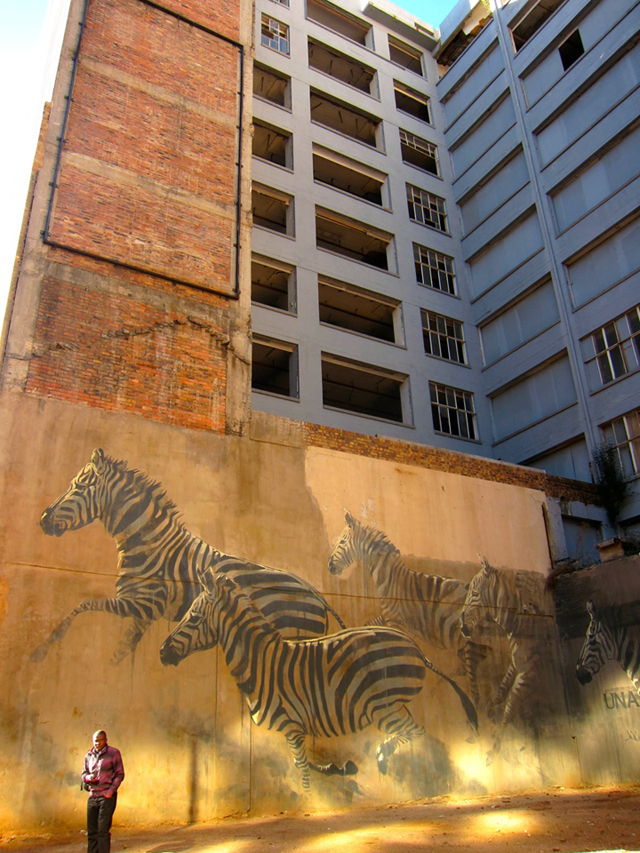 Johannesburg – Urban Savannah
I found it extremely difficult to choose a selection of our summer holiday photos taken in Botswana and South Africa. We had decided that we wanted to go somewhere we didn't know – South Africa was the first choice – but because we would be landing in Johannesburg, we thought we would take the opportunity of visiting Botswana as well, because it isn't that far away (a 1h 16 minute flight to be precise).
What really struck me in Johannesburg was the fact that the city is both dilapidated and brand new, in ruins and under construction. From what I was able to see, it is not a particularly beautiful city, yet its derelict buildings moved me (most of them date from the Seventies or the Eighties) – and if I am mentioning this it is also because I noticed that many visitors to South Africa go straight to Cape Town without seeing this city. Yet, in my opinion, Johannesburg is definitely a key place to visit in order to fully understand South Africa.
There is of course its history and everything that links it to life and Mandela's struggle, but also a real dynamism demonstrating that it is definitely going forward, with areas full of galleries and trendy bars, like the 44 Stanley complex.
I took this photo in the town center, between Fox and Rissik Street, where you get the impression that the buildings still belong to the Fifties. Leaving the elegant area and our hotel, The Saxon, we came across this district that belongs to another era, chockablock full of people, with a complete mixture of races. It was quite amazing. This fresco is the work of the artist Faith 47 and I must admit that I find it incredibly poetic in the midst of so many derelict facades and devastated streets. For me, it absolutely encapsulates the city I saw, the "urban savannah" that I hope you will also love.
PS: MAP STORIES is now available for preorder in English and many other languages at : Amazon/Barnes&Noble/WHSmith etc.