Scroll down for the English version
Quand Francisca Mattéoli  découvre la collection d'étiquettes d'hôtels de Gaston-Louis Vuitton cela donne de nouveaux récits de voyages à explorer dans « Escales autour du Monde ».
Sorti en France le 20 septembre 2012, vous pouvez aussi le trouver dans les magasins Louis Vuitton, en librairies, sur amazon, fnac, entre autre.
Disponible au Japon en septembre 2012. Sortie aux USA prévue au printemps 2013.
Titre anglais « World Tour ».
Déjà en pré-commande sur le site de Barnes & Noble, amazon.ca, et amazon.uk.
En avant-première, la préface du livre ici.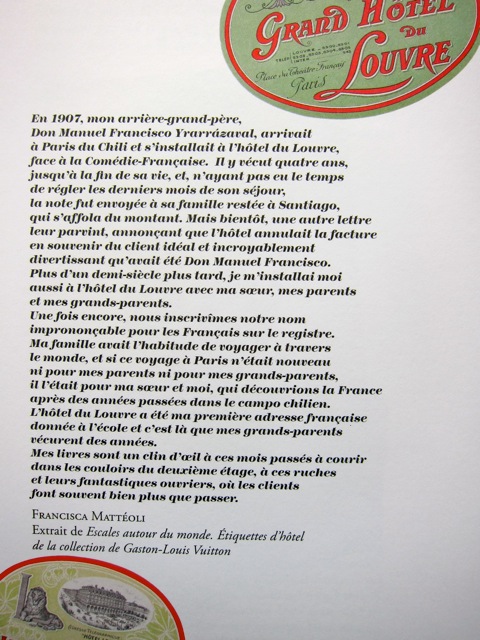 When Francisca Mattéoli discovered the vintage hotel labels selected by Gaston-Louis Vuitton, it inspired her new travel stories to explore in World Tour.
Published in France in September 2012, you can also find it in Louis Vuitton stores, in bookstores, on Amazon, the FNAC and more.
Available in Japan, and published in the USA during Spring 2013.
You can already pre-order the book on the Barnes & Noble website, amazon.ca, amazon.uk.
Preview the preface of the book here.