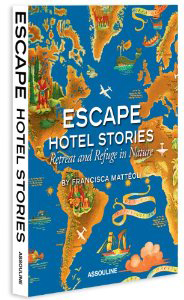 With this book, Francisca Mattéoli shares her passion for nature with us in the purest of tradition of travel writers. She reveals her favorite destinations, where each time a hotel developed a unique relationship with its surrounding universe. Ode to travelling and to respecting the environment, Escape Hotel Stories is about the love of open spaces and lucky escapes… To get away from the planet while preserving it.
Buy the book: Amazon – Barnes & Noble – Assouline + what's in the book…
---
Échappées Belles : Escapades sublimes et sauvages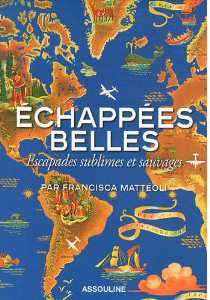 Avec ce livre, Francisca Mattéoli nous fait partager sa passion pour la nature dans la plus pure tradition des écrivains voyageurs, et nous révèle ses destinations préférées, où à chaque fois, un hôtel a développé une relation unique avec la l'univers qui l'entoure. Véritable hymne au voyage et au respect de l'environnement, « Échappées Belles » nous parle d'évasion et d'amour des grands espaces… Pour s'échapper du monde tout en le préservant.
# 160 pages
# Éditeur: Assouline Eds (15/03/2012)
# ISBN: 2759405982
# EAN: 978-2759405985
Acheter le livre: Amazon – Fnac – Assouline + what's in the book…