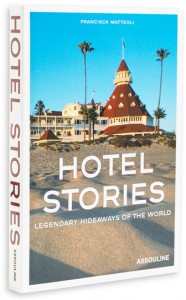 Open Hotel Stories and you will be transported to the most talked about haunts across the globe: Greta Garbo was « born » in a Berlin palace; « James Bond » was created in a house in Jamaica; Al Capone lived his last days in a hotel in Miami; Frida Kahlo escaped with Leon Trotsky to a hacienda in the Mexican countryside.
Throughout the world, mansions, domains, palaces, and haciendas: today these places have been transformed into hotels, where magic and mystery floats in the air.
Stories of incredible adventures, unsolved mysteries, political intrigues, film shoots and illicit liaisons from Rome to Hong Kong, Nairobi, Chile and Mexico are collected in this colorful book.
See these famous spots as they were yesterday and as they are today along with beautiful shots of the celebrities who put these places on the map. Travel the world from your couch, or use the detailed hotel information provided to go see the rooms for yourself. Either way, Hotel Stories is a trip you will never forget.
# 208 pages – 100 images
# Publisher: Assouline (2004/01/07)
# English
# ISBN-10: 2843233429
# ISBN-13: 978-2843233425
---
Hôtels : Petites histoires de grands hôtels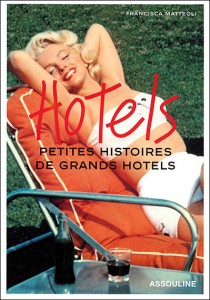 Greta Garbo est « née » dans un palace de Berlin. James Bond est devenu l'agent 007 dans une maison de la Jamaïque. Al Capone vécut ses derniers jours dans un grand hôtel de Miami. Jean Cocteau a tenté d'oublier Radiguet dans un repaire de marins de Villefranche. Frida Kahlo a fui avec Trotski dans une hacienda au fin fond du Mexique…
Hôtels, maisons, palaces, ryokans, haciendas, ces endroits sont aujourd'hui des hôtels et ont gardé la trace de leurs célèbres occupants.
Aventures incroyables, mystères insolubles, tournages de films, liaisons fatales à Rome, à Hong-Kong, à Nairobi, au Chili, au Mexique… Des histoires rassemblées en un drôle d'album de voyage, plein de souvenirs et de révélations.
# 207 pages
# Éditeur: Assouline (15/04/2002)
# Français
# ISBN-10: 2843233348
# ISBN-13: 978-2843233340