Scroll down for the English version
Hier, j'ai reçu ce bel article sur Map Stories dans le China Daily et suis ravie qu'ils aient sélectionné mon livre dans leur liste, surtout quand je pense au nombre de livres qui sortent et qui sont présentés dans les salons comme celui de Londres. On ne le réalise pas toujours, mais il est extrêmement difficile de faire qu'un livre soit remarqué (regardez le nombre de livres qui ont été publiés cette rentrée), alors je suis vraiment très heureuse que Map Stories ait autant de succès.
J'ai aussi découvert beaucoup de messages d'amis et de personnes que je ne connais pas sur Facebook et Instagram. J'espère que nous nous rencontrerons un jour, peut-être à une signature, en attendent je vais continuer à partager avec vous beaucoup de photos magnifiques alors, (et tant pis si je me répète) n'hésitez pas à me suivre, à envoyer les liens à vos amis, à en parler autour de vous et à continuer à me laisser des commentaires !
Autre nouvelle, j'ai presque fini mon prochain livre que j'ai eu beaucoup de plaisir à écrire. Je peux vous dire qu'il y sera question de lieux que vous connaissez sans doute (pour certains d'entre eux), et d'aventures que peut-être vous avez vous-mêmes vécues (pour certaines d'entre elles)… – Je vous en dirai plus bientôt et j'espère vraiment que vous l'aimerez autant que Map Stories.
Et aussi, Bertrand et moi allons bientôt commencer la préparation de l'événement en faveur de l'Association Chrirurgie Plus, l'association humanitaire que Bertrand a créée. Alors regardez la page Facebook de l'association pour être au courant de ce que nous faisons et inscrivez-vous si vous voulez venir à notre après-midi à l'hôtel Meurice. C'est un moment magique, pour parents et enfants, avec des jeux, une tombola, des cadeaux superbes, et toutes sortes de surprises. Vous allez adorer !
Voilà pour le moment. J'espère qu'avec la sortie international de Map Stories je vais avoir assez de temps pour continuer ce blog régulièrement. Sinon, vous pouvez me retrouver sur Insta… et Face… Vous savez ce que je veux dire…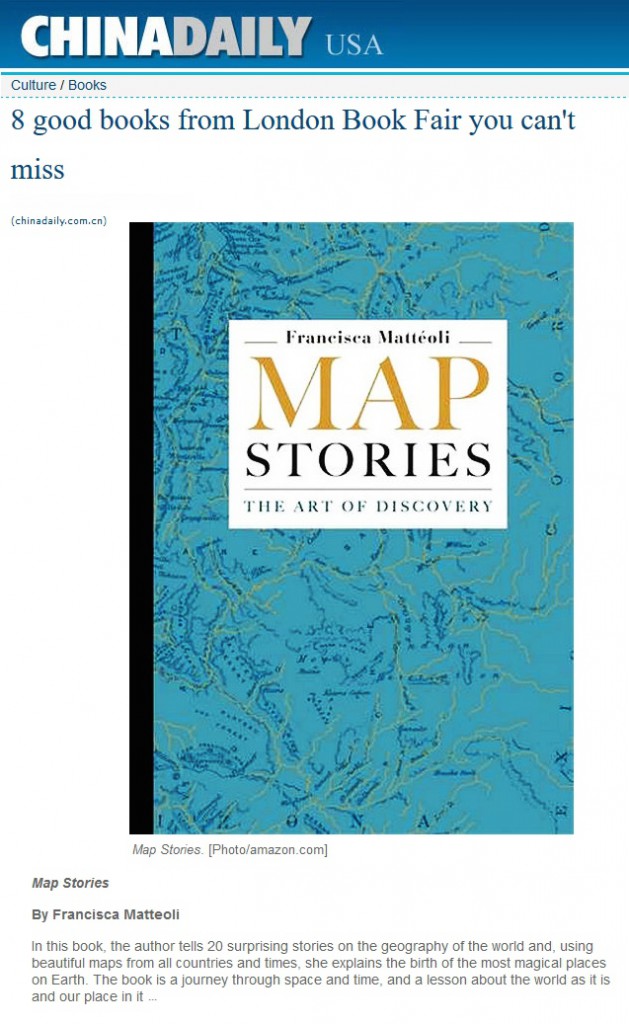 Yesterday I received this amazing article in China Daily about Map Stories and I am so chuffed that they've chosen to include my book in their list, especially when I think about the number of books that are coming out all the time and are presented at all the book shows, like the one in London. I don't think one realizes just how difficult it is to get your book noticed (just look at how many books were published in the last month) so I really am very pleased at the success of Map Stories.
I also found quite a lot of messages on Facebook and Instagram from friends and people I don't know. I do hope we will meet one day, perhaps at a book signing. In the meantime, I will continue sharing lots of magnificent photos with you and to repeat myself one more time: do follow me, send the link to your friends, tell people about it and continue to leave your comments!
Another tidbit. I've nearly finished my next book and I really have enjoyed writing it. I can already say that it's all about places that you probably know (quite a few of them anyway) and adventures that you've maybe also had (some of them anyway). I will tell you more about that very soon and I do very much hope that you will like it as much as Map Stories.
Now Bertrand and I are starting preparations for the Meurice Hotel event to raise money for the humanitarian association Bertrand created, Association Chirurgie Plus. So do check out the Facebook page for updates about everything that'll be happening and also do sign up if you would like to attend this afternoon event. It really is a magical moment for parents and children alike, with game and a tombola, with wonderful prizes, superb gifts and lots and lots of surprises. You'll love it!
Well, that's all for now. I sincerely hope that the international release of Map Stories won't prevent me from finding enough time to continue writing this blog regularly. But if not, you can always find me on Insta… and Face… you know what I mean!