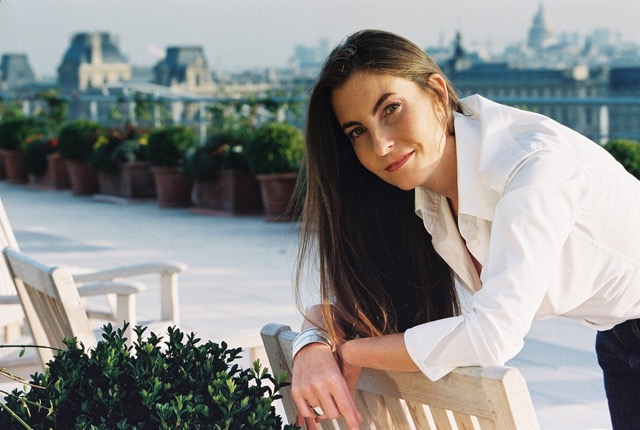 Mon éditeur m'a demandé d'écrire un texte sur ma famille et nos voyages pour mon nouveau livre, et cela m'a prit beaucoup de temps de trouver la meilleure façon d'exprimer les choses, probablement parce qu'il est plus difficile (pour moi, du moins) de parler de gens que l'on connait, ou croit connaitre. J'ai finalement terminé mon texte, et mon éditeur l'a trouvé parfait ! Mais ensuite, il m'a demandé des photos pour l'illustrer et j'ai dû encore une fois choisir, faire une sélection, garder le meilleur, ou ce qui semblait le plus significatif. Pour finir, je lui ai envoyé une photo de mes parents partant pour New-York à bord du premier Queen Elizabeth, un autre photo de mes parents en Amérique du Sud, sur un autre navire, une de moi, à cheval, au Chili – je dois avoir 7 ou 8 ans – une de la Cordillère des Andes, dominée par les impressionnants cactus candélabres, une d'un ancien menu du Copacabana Palace remontant aux années 50, quand les gens avaient l'habitude de se retrouver aux bars des hôtels, en tenues de soirées. J'en ai ajouté quelques autres, dénichées dans d'anciens albums de famille qui tombent en morceaux. J'ai alors réalisé que toutes ces photos représentaient la grande époque des voyages, un moment qui ne se répétera jamais plus. Une époque d'insouciance, de joie de vivre, de légèreté. D'amour du voyage – qui ne demandait pas en ce temps-là un effort permanent, n'obligeait pas à faire mille vérifications, à passer par d'interminables contrôles, à mettre ses produits de beauté dans de mini sacs en plastique. Je pense que tous ceux qui aiment les voyages voudraient vivre cette époque là. Notre périple du Chili en France n'a pas été un voyage d'agrément. Ce fut un départ difficile et déprimant, mais sans aucun doute possible, une aventure. Les voyages que mes parents faisaient avant notre départ, étaient légers, libres, et encore une fois, aussi, une aventure. Finalement, tous ces voyages sont, chacun à leur manière, une célébration de ce que notre monde a de magique et de captivant. En fait, ils célèbrent la vie. Et je suis heureuse de pouvoir écrire là dessus.
Family stories, travel & more
My publisher asked me to write something about my family and our travels for my new book. And I spent quite a lot of time finding the best way of expressing things, probably because it's more difficult (for me at least) to talk about people we know or think we know. I finally finished my text and my publisher thought it was perfect! But then he asked me for some photos to illustrate it. So once again I had to make a selection and choose the best ones – or the ones I thought were the most significant. In the end I sent him a photo of my parents leaving for New York on board the first Queen Elizabeth; another photo of my parents in South America on another boat; one of myself on horseback in Chile – I must have been 7 or 8 years old; another of the Andes Mountains dominated by the impressive candelabra cactus; and a photo of an old Copacabana Palace menu from the Fifties when people met in hotel bars wearing evening dress. Plus a few other photos I found in some old albums that were falling apart. And I realized that all these photos really illustrate the grand era of travel, something that will never be repeated. An era of insouciance, joie de vivre, lightheartedness. And the love of travel – something that didn't take much effort at the time. No need to confirm everything a thousand times, no endless controls or having to put your make-up in a tiny plastic bag. I think that everyone who loves travel would welcome a return to those days. Our journey from Chile to France was certainly no leisure trip. It was a difficult and depressing departure but it was definitely an adventure. All the journeys my parents made prior to our departure were carefree, unrestricted and always an adventure. Finally, each of these journeys in their own way, are a celebration of everything that is captivating and magical in our world. Celebrating life in fact. And I'm delighted to be able to write about this.