Scroll down for the English version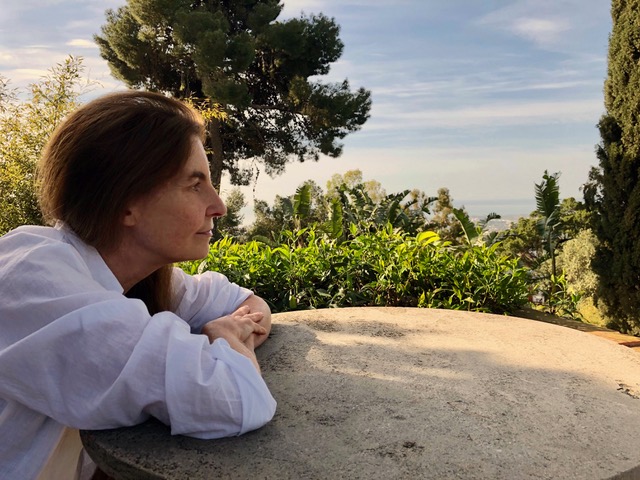 La nouvelle année a commencé en Espagne cette fois, près de Cadiz, dans un jardin paisible, au milieu des arbres et des fleurs. Ce qui me semble la meilleure façon de commencer quoi que ce soit. Ce séjour a aussi été l'occasion de découvrir que la deuxième édition de mon livre Map Stories était publié en espagnol avec la nouvelle couverture. Un grand bonheur et une autre belle façon de commencer l'année. Si vous lisez l'espagnol, il vous attend dans les librairies, sur Google, ou sur le site internet d'Editorial Blume.

Les photos plus bas vous donneront une idée de ce séjour en Andalousie. Si vous avez l'occasion d'y aller, n'hésitez surtout pas. La région est absolument splendide. Vous y trouverez tout ce dont vous avez toujours rêvé. Les splendides montagnes de Ronda, Séville, l'atmosphère rappelant les toreros, les gitans, Carmen de Bizet, les célèbres chevaux Lipizzans, l'ambiance des westerns spaghetti de Sergio Leone et plus encore. Un lieu qui inspire autant que les gens qui y habitent, naturellement et sincèrement accueillants.

En rentrant à Paris, j'ai continué à travailler sur mon prochain livre. Il est à moitié écrit et sera publié en septembre 2023. Et j'ai décidé de prendre mieux soin de moi, car les écrivains ont tendance à rester des heures immobiles, plongés dans leurs textes… L'écrivain David J. Rogers a écrit un excellent article à ce sujet, mentionnant Cole Porter qui avait un réveil pour lui rappeler qu'il devait faire une pause tous les quart d'heure. Et William Faulkner, qui s'arrêtait toutes les demi-heures pour parler à des amis, lire, se détendre, et repartait ensuite sur sa machine à écrire. On dit qu'il écrivait très vite, ce qui est un avantage évidemment. Vous pouvez trouver cet article sur Google. Le titre est : Writing routines and rituals.

Et en parlant de livres, je passe des moments merveilleux en ce moment avec Agatha Christie. Cela ne m'étonne pas que ses histoires aient autant de succès à la télévision. Il y a toujours une adaptation qui passe sur Netflix et il y a bien-sûr aussi Hercule Poirot sur YouTube. En relisant ces livres, on se rend compte à quel point ils sont bien écrits, construits et organisés. Une vraie joie. On cherche souvent des livres nouveaux à lire et on oublie que les grands classiques sont, la plupart du temps, ce qu'il y a de mieux. Et puis, ils sont généralement publiés dans toutes les langues et dans de multiples formats.

Maintenant, je vais faire comme Faulkner et me détendre avec une bonne marche Place des Vosges.

PS : Mon livre Voyages Extraordinaires est maintenant disponible à Los Angeles dans la légendaire Last Bookstore et sur leur site internet (en anglais). Et mes autres livres sont toujours disponibles partout où des livres sont vendus… Et aussi, vous trouverez d'autres histoires, informations et photos sur Facebook et Instagram.



New Year / New Ideas
New Year 2023 started near Cadiz in a peaceful garden amidst trees and flowers. I think that this is one of the best ways to start anything.This break was also the occasion to discover that my book Map Stories has been published in Spanish – Second edition with a beautiful new cover. A great joy and another pleasure to start the year with. If you read Spanish, you'll find the book in most bookshops, on Google or on the Editorial Blume website.

The photoswill give you an idea of my visit to Andalusia. If you get the chance to go there, don't hesitate. The region is absolutely splendid. You'll find everything youever dreamt of. The Ronda mountains, Seville, the atmosphere reminiscent of gypsies, toreros, Bizet's Carmen, the famous Lipizzaner horses, Sergio Leone's spaghetti westerns and much more. An inspirational place to awaken emotions amongst genuinely welcoming people.

After returning to Paris, I continued working on my next book. I'm halfway through writing it and it should be published in September 2023. And I've decided to take more care of myself because writers are apt to spend too much time sitting immobile, immersed in their text. The writer David J. Rogers wrote an excellent article on the subject. About Cole Porter who kept a special alarm to remind him to take a pause every 15 minutes. And William Faulkner, who stopped work every half hour to talk to friends, read and stretch, before resuming work on his typewriter ; – apparently he typed very quickly which was an advantage of course. You can read this article on Google under the title: Writing routines and rituals.

While on the subject of books, I am enjoying time spent with Agatha Christie. No wonder her stories are so successful on television. There are always adaptations on Netflix and, of course, Poirot on Youtube. Anyone who has read or re-read her books will have realised just how well written, constructed, and planned they are. What a pleasure. One often looks for new books to read, forgetting that the old classics are frequently much better. Also, they are usually published in most languages in various formats.

Now I intend to take after Faulkner and go for an energetic walk round Place des Vosges.

PS: My book Extraordinary Voyages has been selected by the iconic Last Bookstore in Los Angeles and is now available on their online store. And you'll find my other books wherever books are sold… Also, you'll find more stories / photos / information about my books on Facebook and Instagram.