Scroll down for the English version
Chaque année, quand arrive la période des tempêtes de neige et de blizzards dans une bonne partie du monde, j'imagine ce que ce devait être dans les années 50, quand mes parents vivaient au Chili et qu'ils allaient skier à Portillo, à deux heures de Santiago. Deux heures de Santiago… aujourd'hui ! A l'époque, il fallait d'abord prendre la route pour aller de Rancagua (où mes parents vivaient) à Santiago, de là, attraper un train pour monter à Los Andes, enchaîner avec un autre train, à crémaillère cette fois, pour aller à Portillo, et là, prendre un passage couvert pour arriver au légendaire Hotel Portillo, ouvert en 1949, qui résumait en ce temps là, la station. Et comme si cela ne suffisait pas, il fallait ensuite chausser les skis en bois et dévaler les murs affolants de la Cordillère des Andes. Des champions européens venaient donner des leçons de ski et s'entraîner quand il n'y avait plus de neige chez eux, comme Emile Allais, qui avait gagné la première médaille olympique de ski alpin français en 1936. Tous se retrouvaient au milieu de ce paysage sorti d'une autre planète, isolés du monde, avec la plus grande chaine de montagnes du globe et les eaux émeraudes de la Laguna del Inca qui offraient une vision magique durant le jour, et la nuit venue, se rapprochaient plus d'une ambiance de Stephen King… Ca, c'était de l'aventure.
PS : Emile Allais et sa femme ont signé cette photo pour mes parents.
Si vous voulez aller skier à Portillo : www.chileanski.com/eng/portillo/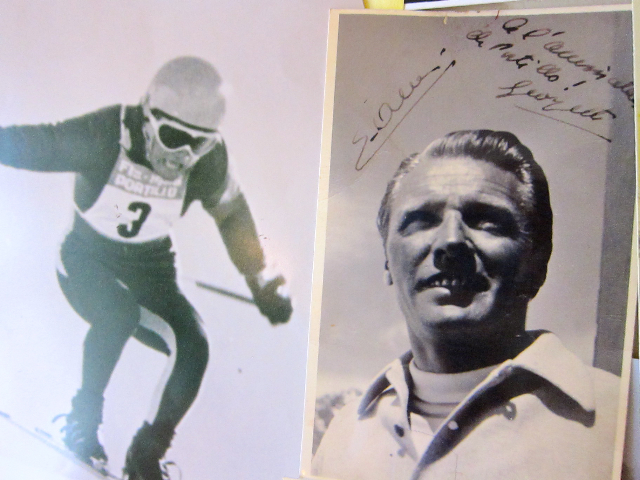 Every year, when snow blizzards take over in most countries, I imagine how it must have been like in the 1950s, when my parents lived in Chile and went skiing to Portillo, two hours away from Santiago. Two hours from Santiago… today ! At the time, the road from Rancagua (where my parents lived) to Santiago had to be taken first. From there, you had to catch a train going up to Los Andes, change trains, take an authentic rack-railway this time, so as to go to Portillo. Once there, you had to go along a covered passage to get to the legendary Portillo Hotel which opened in 1949 and summarized the ski resort at the time. And, as if this trip wasn't enough, you had to put on wooden skis and face the hallucinating walls of the Andean Cordillera. European champions came there to give skiing lessons and practice when their countries were out of snow, just like Emile Allais who won the first Olympic medal of French Alpine skiing in 1936. Everyone got together at the center of this landscape from another planet, isolated from the rest of the world, on the longest continental mountain on the globe and with the emerald waters of Laguna del Inca revealing a magical vision during the day, and at night, offered more of a Stephen King atmosphere… That was adventure.
PS: Emile Allais and his wife signed this picture for my parents
Ski in Portillo : http://portillochile.com/