Scroll down for the English version
L'autre jour ma soeur m'a envoyé cette photo qu'elle a prise dans le métro à Paris. Elle avait écrit en dessous « Viva Chile ! ». Cela m'a fait penser à nos premières années en France…
A l'époque, peu de gens savaient où se trouvait le Chili, quelle langue nous parlions, comment nous vivions. Chaque jour, nous lisions des articles dans les journaux qui ahurissaient ma famille, nous entendions des gens sérieux, des gens importants, parler de choses qu'ils ne connaissaient pas, qui n'avaient rien à voir avec le pays que nous aimions. Ces années m'ont appris à défendre mes opinions – pour rectifier ce que je savais être faux. Elles m'ont appris aussi d'où je venais. Avant, cela n'avait pas vraiment d'importance. Mais quand vous êtes isolé et perdu, que la vie devient incontrôlable, vous vous raccrochez à ce que vous connaissez, et vos racines font partie de ces choses là.
Les événements ont rendu le Chili célèbre. Le temps a passé. Les choses n'ont été faciles ni simples pour aucun chilien. Et puis, le pays a évolué, d'une manière inespérée. D'autres pays auraient été broyés par une histoire comme la nôtre. Le Chili a réussi à repartir, malgré tout ce qu''il avait contre lui. Son passé, sa géographie impossible, son isolement absolu, la dureté de la vie et des éléments. Pendant ces années là, j'ai appris autre chose. Que les pays et les nations sont comme les gens. Que la roue tourne pour tout le monde. Que les faibles d'hier peuvent être les forts de demain et vice versa. Qu'il faut faire attention à ne pas être condescendant, arrogant, dénigrant, parce qu''on ne sait jamais ce qui peut arriver dans la vie.
Je suis fière de voir que le Chili avance bien. Que les nations latinas seront, certainement, les nations fortes de demain.
Cette année, le Chili a été nommé Best trip 2013 par le National Geographic Traveler.
Le chef Rodolfo Guzman de 34 ans a été élu nouvelle star de la cuisine internationale par le Nouvel Observateur (et que dire des vins chiliens qui rivalisent aujourd'hui avec les français).
L'hôtel Tierra Patagonia, au fin fond des Torres del Paine, a reçu le Design Award de Travel & Leisure.
En 2013, Santiago va inaugurer la plus haute tour d'Amérique du Sud, La Gran Torre Santiago.
En 2012, The Times a fait pour la première fois de son histoire sa couverture avec un titre en espagnol.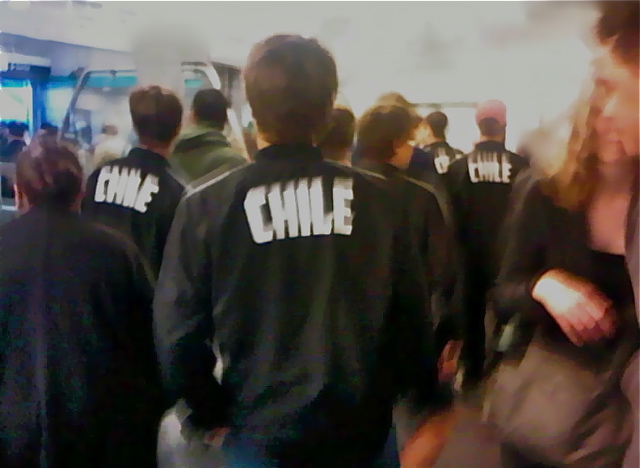 Latin Pride
The other day, my sister sent me this picture she took in the Parisian subway. She had commented it: « Viva Chile! » This reminded me of our first years in France…
Back then, only a few people knew where Chile was, which language we spoke, how we lived. Everyday we heard serious people, important people, speak of things they didn't know of and that had nothing to do with the country we loved. These years taught me how to stand up for my beliefs – to correct what I knew was wrong. These also taught me where I came from. Before that, I wasn't really aware of it. But when you are lost, and things spin out of control, you hold on to what you know, such as your roots.
The events which made Chile famous. This was not easy or simple for any Chilean. Time passed, and the country evolved in a way undreamed-of. Other countries would have been crushed by a History like ours. Chile managed to get going again, slowly, despite of eveything working against it. Its past, the geographic situation, the absolute isolation, the toughness of life and elements. During those years, I learnt something else. That the countries and nations are like people. That the wheel of life rotates for everyone. The weak of yesterday can be the strong ones of tomorrow and vice versa. One must be careful not to be condescending, arrogant, denigrating, because one never knows what happens in life.
I am proud to see that Chile progresses well. That Latina nations will become, withouth a doubt, the strong nations of tomorrow.
This year, Chile was named Best trip 2013 by the National Geographic Traveler.
The 34 years old chef Rodolfo Guzman was named the new star of international cuisine by Le Nouvel Observateur (and what about the Chilean wines that today compete with the French).
The hotel Tierra Patagonia, at the far end of Torres del Paine, received the Design Award of Travel & Leisure.
In 2013, Santiago will inaugurate the highest tower in South America, the Gran Torre Santiago.
In 2012 and for the first time, The Times did its cover story with a Spanish title.