Scroll down for the English version
Dans ma famille, quand nous habitions au Chili, il ne serait venu à l'idée de personne de rester plus de trois mois de suite dans notre maison à Rancagua. Mon grand-père, qui avait une sclérose en plaques, voyageait pour son plaisir et aussi pour consulter des spécialistes dans le monde entier. Même quand il était en fauteuil roulant et que ses déplacements demandaient une organisation démentielle, il continuait à voyager. Mes parents allaient en Europe régulièrement, bien avant que la vie ne transforme leur périple en un voyage définitif. Pour ma mère qui avait quitté son Ecosse natale en allant épouser mon père Chilien, c'était un peu comme un retour aux sources. Pour mon père, qui avait fait une partie de ses études à Paris, en un sens aussi. Mais la grande aventure, la Très Grande aventure, ce sont mes grands-parents qui l'ont connue à une époque où partir sur les routes chiliennes et à travers le monde représentait vraiment la liberté et l'inconnu (depuis Rancagua, trois semaines en paquebot après avoir traversé les Andes, contre 13h de vol aujourd'hui !)
Quand je suis venue vivre en France et que ma vie a changé, j'ai réalisé que la liberté était un privilège qui pouvait disparaitre à tout moment. Un privilège unique qu'il faut chérir et célébrer à chaque instant parce que personne ne sait de quoi demain sera fait. Voilà pourquoi aujourd'hui que je peux voyager presque partout où je veux, que je me sens à nouveau libre, je vous passe ce message : Partez. Explorez. Découvrez le monde. Rencontrez des gens dont vous ne soupçonniez pas l'existence dix minutes plus tôt. Consumez votre liberté jusqu'à la dernière limite tant que vous le pouvez ! Pour citer Mark Twain « Dans vingt ans, vous regretterez plus ce que vous n'avez pas fait que ce que vous avez fait. » Et j'ajoute, quand les temps seront durs, vous pourrez vous dire « Ça, je l'ai fait. »
PS : Profitez aussi de l'été pour lire – ou relire – mon blog (partez à Shanghai, au Pérou, en Patagonie… ), découvrez d'autres histoires et photos sur ma page Facebook FRANCISCA MATTEOLI (officiel), regardez les pages de l'Association Chirurgie Plus si vous ne savez pas encore ce que nous faisons, écrivez le livre que vous avez toujours voulu écrire… Bref, passez de bonnes vacances !
Re PS : Sur les photos – Mes grands-parents sur le routes Chiliennes dans les années 20, une de leurs extraordinaires aventures. Moi sur les routes anglaises en 2012. Hier et aujourd'hui. On the road again…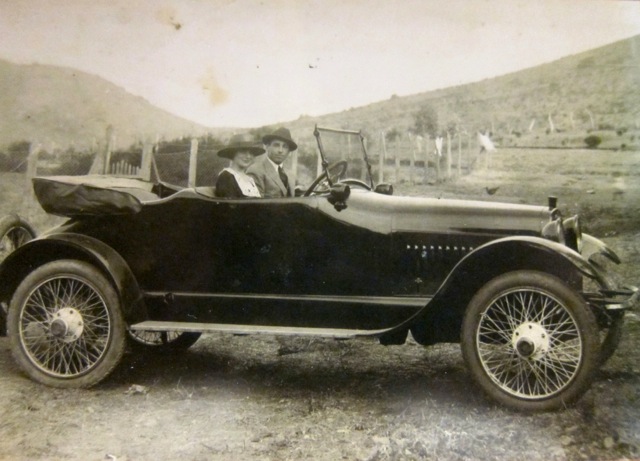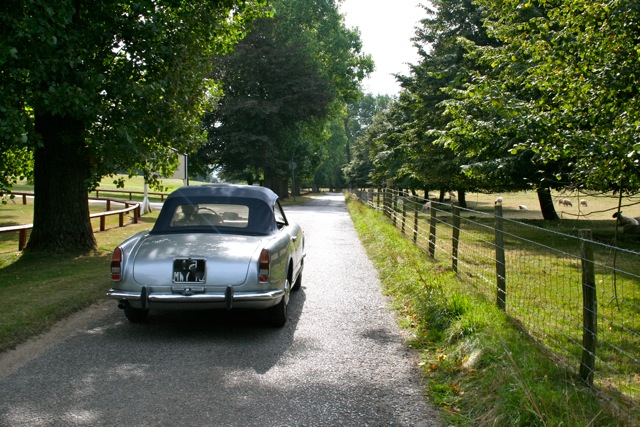 In my family, when we lived in Chile, it would never have occurred to any of us to stay planted more than three months at our home in Rancagua. My grandfather, who suffered from multiple sclerosis, travelled both for pleasure and to consult specialists all over the world. Even when he had to use a wheelchair and the simplest journey called for V-day organization, he still continued to travel. My parents went to Europe regularly long before events decreed that their final Atlantic crossing would be their last. For my mother, who left her native Scotland when she married my Chilean father, it was a homecoming of sorts. For my father too, in a way, as he had studied in Paris. But the great adventure, the Big One, was when my grandparents, when they were young, travelled on the Chilean roads of the epoch, and around the world, carefree, to the unknown… from Rancagua; three weeks on a Transatlantic liner after having crossed the Andes, compared to 13 hours by plane today!
When l came to France and my life changed, l realized that freedom was a privilege which could disappear at any time. An unique privilege which we should cherish and celebrate every minute because nobody knows what tomorrow will bring. That is why today, being able to travel more or less where l like, feeling free again, l pass on the message. Go. Explore. Discover the world. Meet people you never imagined existed. Push your freedom to the limit (or at least, while you still can!). To quote Mark Twain « In twenty years time you will regret more what you haven't done than what you have done. » And l add, when things get tough, you can always say « l did it… »
PS Use the summer to read – or re-read – my blog (go to Shanghai, Peru, Patagonia…) find more stories and pictures on my Facebook page FRANCISCA MATTEOLI (officiel), look up Association Chirurgie Plus  if you are not yet familiar with what we do, and write that book you have always wanted to write… And enjoy your summer !
PPS The photos: My grandparents on a Chilean road trip in the 1920s, one of their extraordinary adventures, and yours truly on the English roads in 2012. On the road again…