Scroll down for the English version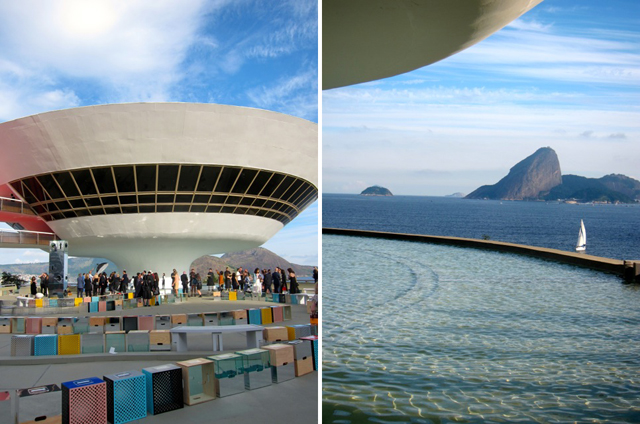 J'ai une surprise aujourd'hui pour vous ! Je rentre de Rio, où j'étais invitée à voir la collection croisière de Louis Vuitton, un voyage mémorable non seulement parce que la présentation, et tout ce qui a accompagné ce moment, était incroyable, mais aussi parce qu'il m'a donné l'occasion de retrouver Rio, ville où j'ai vécu et qui tient une place unique dans mon cœur.
La présentation avait lieu au musée d'art contemporain de Niteroi dessiné par Oscar Niemeyer (situé dans le quartier de Boa Viagem – « Bon voyage » – un signe…), et je n'exagère pas en disant que le moment a été extraordinaire. Surréaliste même. J'ai toujours pensé que les voyages valent pour l'expérience de vie qu'ils procurent, et celle-ci, dans ce cadre ultra moderne et pourtant si poétique, avec ce toit comme une soucoupe volante et la vue fabuleuse sur Rio, en était certainement une. Le musée présente une collection permanente, alors si vous êtes à Rio et aimez l'art contemporain, n'hésitez pas à y aller. Après la présentation nous avons filé au Parque Lage, dans le Jardim Botanico (l'un des jardins botaniques que je préfère au monde) pour dîner (avec beaucoup de caipirinhas et même des danseuses de samba) et le lendemain, nous étions invités à déjeuner à Santa Teresa, un quartier un peu comme Le Marais à Paris ou Notting Hill à Londres, dont déjà parlé dans ce blog. J'ai profité de chaque seconde. Rio est une ville complexe quand vous ne la connaissez pas, alors si vous y avez des amis, surtout allez-y. Je vous défie de ne pas ne pas tomber amoureux de l'endroit et de l'incroyable esprit carioca. La dernière fois que j'y étais, j'ai vu que la maison où j'habitais à Leblon n'existait plus malheureusement, mais c'est un risque qu'il faut accepter quand on revient dans des endroits qu'on a aimé. Pendant ce voyage-ci, j'ai retrouvé le Leblon et le Rio que j'adore, l'énergie, le mélange insensé de gens, les sourires précieux, l'authenticité… Tout ce qui me donne envie de revenir dès que l'avion décolle. Voici des images de ce voyage, que je poste avec beaucoup de saudade et de tendresse pour tous mes amis brésiliens. Même si mon dernier livre n'a pas été publié en portugais… Pas encore !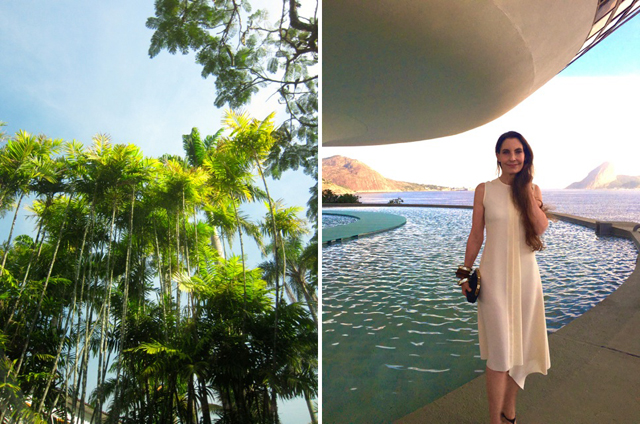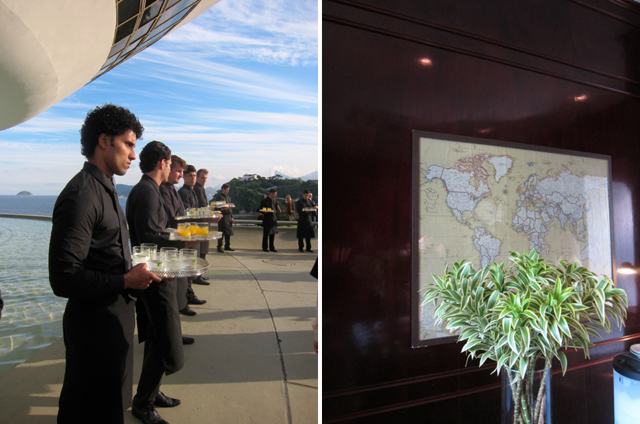 Brazil – Back from Rio
I've got a surprise for you today! I've just returned from Rio, where I was invited to the presentation of Louis Vuitton's Cruise Collection. A memorable trip, not just because the presentation and all that went with it was outstanding, but also because it gave me a chance to to back to Rio, a city where I once lived and that has a special place in my heart.
The presentation took place in the incredible Niteroi Contemporary Art Museum designed by Oscar Niemeyer in the Mirante de Boa Viagem – the « Bon voyage » viewpoint. A sign… and I'm not exaggerating when I say that it was quite an extraordinary moment. Surrealistic even. I've always thought that travel is worth it for the life experience it provides and this visit to such an ultra modern setting, yet so poetic with a roof that looks like a flying saucer and a breathtaking view OF Rio, was definitely a striking example of this. The museum has a permanent collection; so if you happen to be in Rio and like contemporary art, do pop in. After the presentation we took off to Parque Lage in the Jardim Botanico (one of my favorite botanical gardens in the world) for dinner (with lots of caipirinhas and even samba dancers) and the next day we were invited to have lunch in Santa Teresa, a district that is a bit like the Marais in Paris or Notting Hill in London, and somewhere I talked about in this blog after my last visit to Rio. I enjoyed every minute. Rio is a complex city when you don't know it, so if you have friends there, do go and visit them. I defy you not to fall in love with the place and the fabulous "carioca" spirit. During my last trip to Rio, I found out that the house where I used to live in Leblon was unfortunately no longer there, but that's a risk one has to accept when returning to much-loved places. However, during this trip, I once again rediscovered Leblon and the Rio I love, the energy, the mix of people, the priceless smiles and authenticity, all the things that make me want to return as soon as the plane takes off. Here are some pictures of this trip that I'm including with lots of "saudade" and affection for all my Brazilian friends. Even if my latest book has not been published in Portuguese… yet!