Scroll down for the English version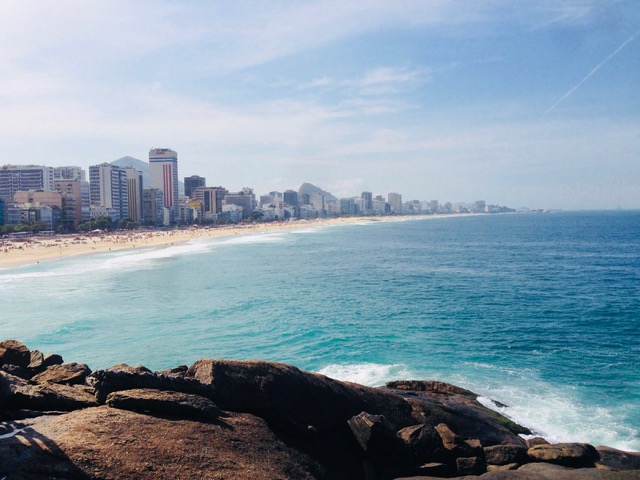 Si vous vous me connaissez, vous savez à quel point je suis attachée au Brésil et à Rio de Janeiro. Nous avons tous un lieu – ou plusieurs, si nous sommes chanceux – où nous nous sentons heureux et sereins, et Rio est cet endroit pour moi.
J'y étais il y a quelques semaines, et c'était formidable de retrouver cette ville et les cariocas qui, malgré les problèmes qu'ils peuvent avoir, restent positifs. Ils savent profiter de chaque petit bonheur de la vie, ce que peu de gens arrivent à faire de la même manière.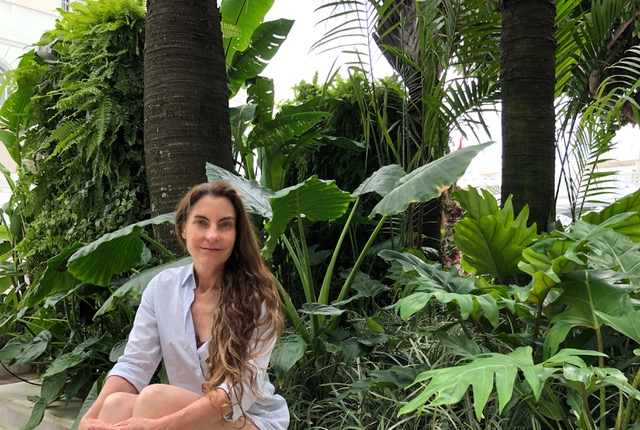 Dès que j'arrive, j'adore aller marcher sur le long de la plage, de Copacabana à Leblon – où j'ai habité – pour le plaisir d'admirer encore et encore la splendeur de cette ville. On a du mal à croire que cette plage magnifique est à seulement quelques mètres des buildings et des avenues.
C'est l'une des raisons pour lesquelles je descends au Copacabana Palace, aux pieds de la plage de Copacabana. Mes grands-parents avaient l'habitude d'y aller, et un jour (c'était dans les années 30) un membre du personnel a même pris mon grand-père pour l'acteur Tyrone Power. Depuis, l'hôtel est un passage obligé dans ma famille, en plus d'être un hôtel mythique. Et puis, dès que vous voyez les incroyables sourires de Jorge et de Rosa à la porte d'entrée, vous savez que vous êtes à Rio. La piscine est idéale pour moi qui aime faire des longueurs de crawl tôt le matin, même si je suis rentrée tard la veille. En plus, on n'a qu'à traverser la rue pour être sur la plage où il se passe toujours mille choses. Allez-y, même juste pour prendre un verre ou déjeuner, c'est vraiment une partie immanquable de cette ville magique.
Le plus difficile quand je voyage, est de trouver des endroits authentiques. J'aime les vieilles boutiques, les hôtels anciens, les endroits qui ont une histoire, alors j'évite souvent les lieux branchés – qui en plus, ne représentent généralement ni la ville ni le pays où ils se trouvent. Je préfère aller là où vont les habitués, où tout n'est peut-être pas absolument parfait, mais où il y a une une vraie ambiance. On me demande souvent mes adresses dans telle ou telle ville, et concernant Rio, si vous voulez vraiment « sentir » la ville, rien ne vaut pour moi un bar de plage (ici, on dit un Kiosque), comme « Las Empanadas » (je ne suis pas Chilienne pour rien !). Nous y avons passé un après-midi fantastique, à écouter de la Bossa Nova Live devant une bière locale et des empanadas (ils proposent tout un tas d'en-cas délicieux). Tout le monde s'est mis à danser et à chanter, et nous sommes finalement restés jusqu'au soir. Ça aussi, c'est Rio.
Ces bons moments me rappellent d'autres endroits que j'aime beaucoup, le premier dans le quartier de Leblon – mon quartier préféré comme vous l'aurez deviné. Le second à Botafogo, le troisième, encore à Leblon : Zaza Bistro Tropical (bien connu des gens du quartier et tout près de la plage), le restaurant Iraja, que j'ai déjà cité dans une autre histoire, caché dans une ravissante maison coloniale, et le fabuleux bar/bistro Jobi, ouvert depuis 1956, qui a ses fans, dont moi.
Mais mon plus grand plaisir, comme toujours, est de me promener simplement dans les rues. Dans le Centre, par exemple, près du Museu do Amanhã – je ne répéterai jamais assez qu'il faut absolument aller voir l'extraordinaire Real Gabinete Portugues de Leitura – et dans les rues d'Ipanema et Leblon. Et en parlant de Leblon, j'ai été ravie de découvrir que mes livres étaient en vente dans la superbe librairie Argumento. Muito Obrigada.
Et muito obrigada aussi à tous ceux qui ont aimé et acheté Map Cities et en ont parlé à d'autres personnes. Merci, merci, et Bonne Année 2018 à tous !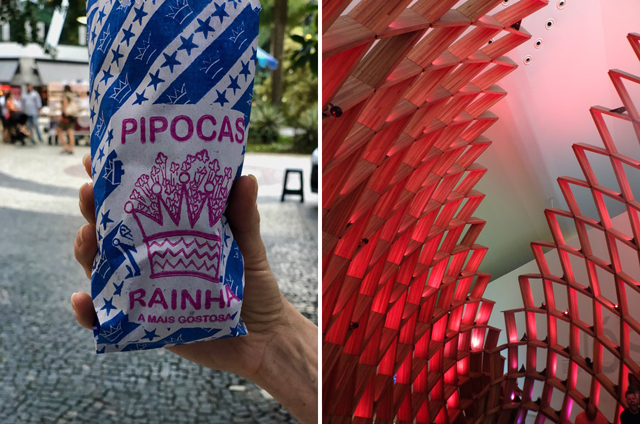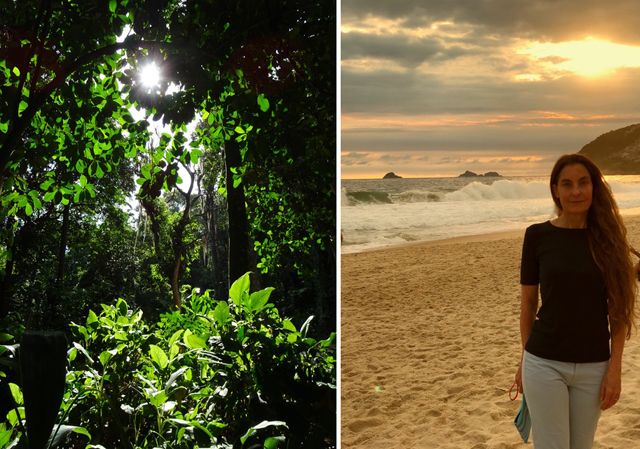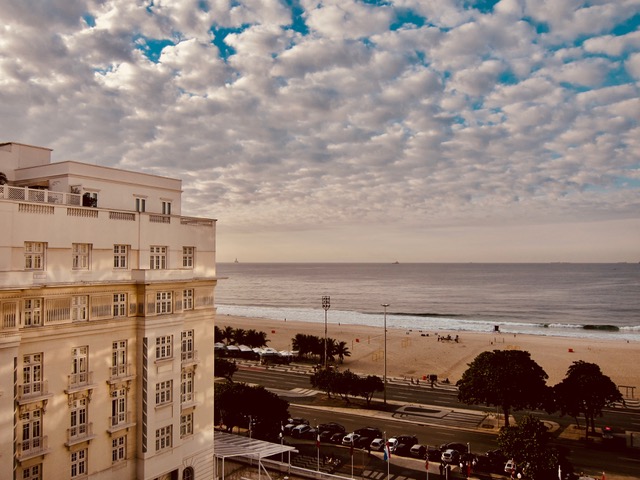 Brazil – Rio em Janeiro
🇬🇧 Those of you who know me are aware of just how fond I am of Brazil and of Rio de Janeiro in particular. We all have a place – or several places if we're lucky – where we feel safe and happy. And for me, Rio is one of those special places. I was there a few weeks ago and it was simply wonderful just to be in there again. And to be amongst the people who live there and who, despite all the problems they face, remain so positive. They really do know how to make the most of every patch of blue sky – something that most people find quite difficult to do in the same way.
The thing I really love doing when I get there is to take a walk along the beach, from Copacabana to Leblon – where I lived once. As I will never ever tire of admiring the splendor of this magnificent city. It's difficult to believe that such an amazing beach is only a few meters away from buildings and avenues.
That's one of the reasons why I always stay at the Copacabana Palace, with the Copacabana Beach at its feet. My grandparents stayed there regularly and one day (this was in the Thirties) a member of staff actually mistook my father for the actor Tyrone Power! Since then the Copacabana Beach hotel is a mandatory stopover for all members of my family, as well as being a mythical hotel. Also, as soon as you catch sight of Jorge and Rosa's enormous welcoming smiles as you reach the door, you know that you are in Rio. The swimming pool is perfect for me as I love going for an early morning swim even if I got home late the night before. In addition, you just to cross the road to be on the beach where there are always a thousand things happening. Do make a point of going there, even if it just for a drink or lunch, as it really is a vital part of this wonderful city.
When travelling, I think that the most difficult thing is always finding places that are authentic. I love old boutiques and hotels with a past, places that have a history so I usually avoid fashionable venues that are rarely representative of either the city or the country in which they are located. I prefer to go where the locals go, where everything is maybe not absolutely perfect, but where there is a truly authentic atmosphere. I'm often asked for the addresses of my favorite places in the cities I visit and, as far as Rio is concerned, if you really want to "get the feel" of the city, then nothing beats (in my opinion) one of the bars on the beach (known as a kiosque) such as « Las Empanadas » (I'm not Chilean for nothing!). We had a wonderful afternoon listening to live Bossa Nova accompanied by a glass of local beer and « empanadas » (there are all sorts of delicious nibbles). Everybody started to sing and dance and in the end we stayed until the evening. That too is normal in Rio.
Thinking back on the good times brings to mind three other places that I'm very fond of. The first is in the Leblon district – the district I prefer as you've probably guessed. The second is in Botafogo, and the third is also in Leblon: Zaza Bistro Tropical (well known to everyone in the district and very close to the beach), the restaurant Iraja that I've already mentioned in another story, tucked away in a beautiful colonial house, the fabulous bar/bistro Jobi, open since 1956, and of which I am one of it's many fans.
But the thing I most enjoy, as always, is to just wander around the streets. In the city center, for example, near Museu do Amanhã – and I will never tire of repeating how you simply must visit the extraordinary Real Gabinete Portugues de Leitura – also Ipanema and Leblon. And to top it all, I was delighted to discover that my books were on sale in the superb bookshop Argumento.com in Leblon. Muito Obrigada.
And muito obrigada also to everyone who bought a copy of Map Cities, who loved it and recommended it to others. Thank you, Thank you, and a very Happy New Year 2018 to all of you!