Scroll down for the French version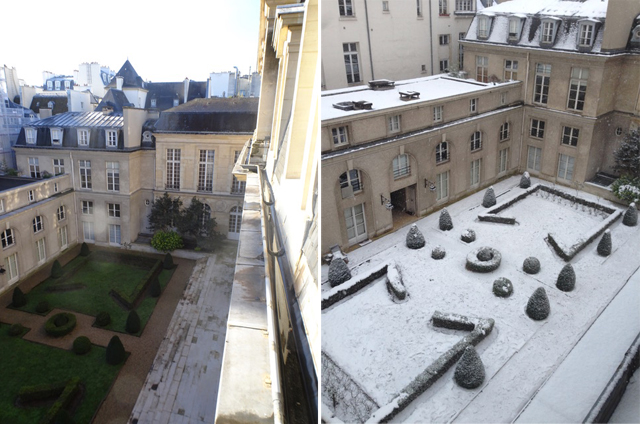 Some cities are just not made for Winter while others are completely transformed and Paris is a fine example. At the moment it's snow, with fog and ice (and a dose of winter sun). The skies are pale, white, and silvery. It's different every day and it's very beautiful. The perfect time to read some good books (!) and visit cosy venues. For example, how about a nice cup of tea in W.H.Smith, rue de Rivoli. And while you're in that neck of the woods, the Tuileries gardens are simply magnificent, with a whole range of frosty hues that are quite spectacular.
My friend Christian Tortu, a truly magical florist, who loves nature as much as I do, recently posted a stunning photo of the Tuileries gardens on his Instagram account. Do go and check it out. Because nature is also very much alive in winter although we don't always realise this. In a recent interview with the magazine Raffles, I described my favorite places in Paris and I've included them on my Press page.
And if you're visiting Scotland at this time of year, you'll be able to see some amazing scenery! Where everything is mysterious and unexpected. That too is part of the beauty of Winter.
And while on the subject of the Press and interviews, I've been pretty busy lately promoting my latest book. I've put all book signing and other events on my Facebook page and Instagram. Please don't hesitate to come along as I'm always delighted to see you. Although I didn't have much time to be able to chat to everyone who came to my last book signing at Galignani's, from the look on people's faces I think that everyone enjoyed themselves! I hope that this will always be the case and that I'll have more time at the next book signing. It's not always possible to be as accessible as I'd like to be when there are so many people waiting, but I do try to do my best!
More good news. Do you remember the passport problems for the Chirurgie Plus Association surgeons? Well, everything has now been sorted out and we've just welcomed two surgeons from Africa who will now be able to understand and learn new techniques in Paris. I know I'm repeating myself, but if you would like to know more, please visit the Association's FB page. And share it with your friends! I really think that enabling surgeons to gain more knowledge is good for us all, and that we are all winners when we make the effort to help make the world in which we live a better and safer place.
Just one more thing for today. I was asked what music I listened to and I promised to give you a few titles. Although I don't work to music, I do listen to music a lot. At the moment I'm listening to Frank Sinatra (Watch what happens), John Lennon (Just like) Starting over, Gaetano Veloso (Beleza Pura), the Bossa Nova, George Michael (Kissing a fool), Charles Trenet (Y'a d'la joie), Charles Aznavour (Les comédiens), Tony Bennett (Fly me to the moon) and the Pretenders (Don't get me wrong).
PS: My gorgeous black suit is from Alejandra di Andia.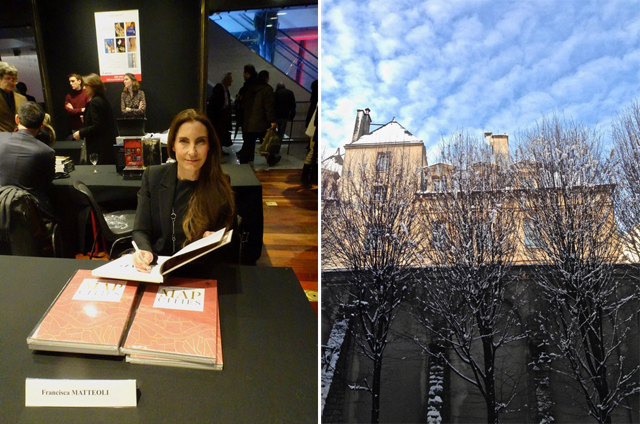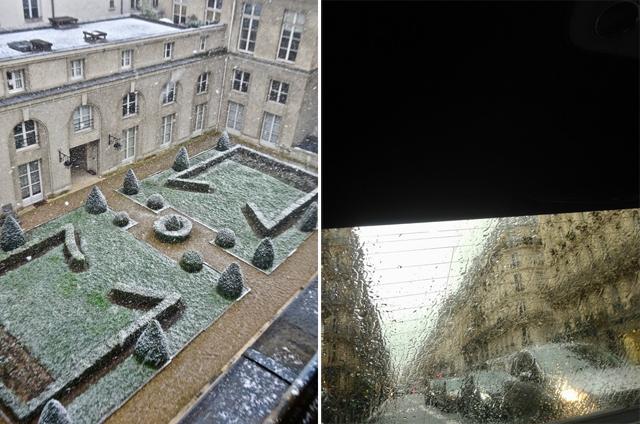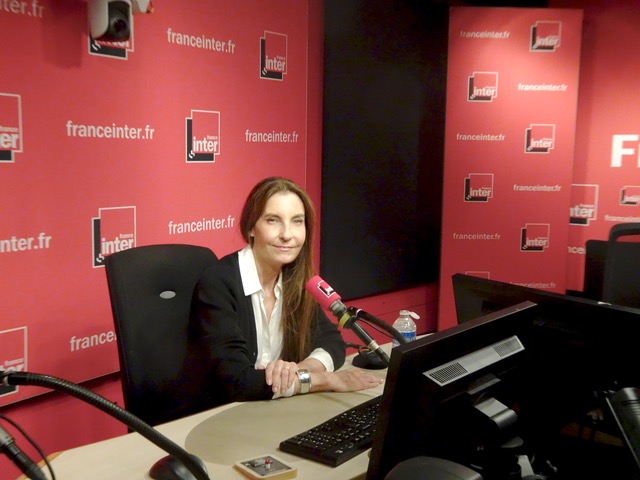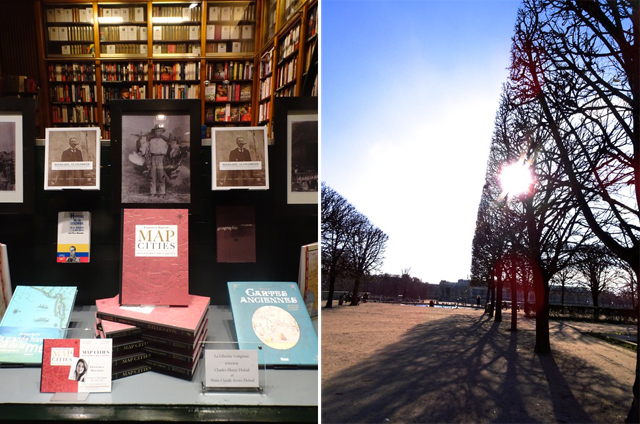 Paris – L'hiver et quelques nouvelles
Il y a des villes qui ne sont pas faites pour l'hiver et d'autres qui se transforment complètement. Paris, par exemple. En ce moment, il neige, il bruine, il y a du gel, les ciels sont blancs, pâles, argentés, avec une dose de soleil hivernal… Chaque jour est différent et c'est très beau. C'est le moment idéal pour lire de bons livres (!) et aller dans des endroits cozy. Je vous conseille un thé chez WHSmith rue de Rivoli par exemple, et si vous êtes dans ce coin de Paris, les Jardins de Tuileries sont absolument magnifiques, dans des teintes froides, très spectaculaires.
Mon ami Christian Tortu, fleuriste magique, qui aime autant la nature que moi, a posté récemment une très belle photo des Tuileries sur son compte Instagram. Jetez-y un coup d'oeil, car la nature vit aussi en hiver, on ne s'en rend pas toujours compte. J'ai mentionné mes lieux favoris à Paris dans l'interview que j'ai faite récemment pour le magazine Raffles. Vous la trouverez dans ma page presse.
Et si vous allez en Ecosse à cette époque de l'année, regardez ces paysages! Tout est mystérieux et étrange. Ça aussi, c'est la beauté de l'hiver.
Et en parlant de presse et d'interviews, ces derniers temps ont été particulièrement remplis avec la promotion de mon dernier livre. Mes signatures et événements sont sur mes pages Facebook et Instagram. N'hésitez pas à passer, je serai ravie de vous voir. Je n'ai pas eu beaucoup de temps pour discuter avec ceux qui sont venus à ma dernière signature chez Galignani, mais je pense que tout le monde s'est amusé (à voir les visages, c'était l'impression que ça donnait !). J'espère que ce sera toujours le cas et que j'aurai plus de temps la prochaine fois. Ce n'est pas toujours possible d'être aussi disponible qu'on le voudrait quand tout le monde se presse autour de vous, mais je fais des efforts !
Autre bonne nouvelle, vous vous souvenez quand nous avons eu nos problèmes de passeports pour les chirurgiens qui viennent avec l'Association Chirurgie Plus ? Tout ça est arrangé maintenant et nous avons reçu deux chirurgiens d'Afrique qui vont pouvoir voir et apprendre de nouvelles techniques à Paris. Je sais que je me répète, mais encore une fois, si vous voulez en savoir plus, vous pouvez aller sur la page FB de l'association. Passez le mot autour de vous! Je pense que permettre à des chirurgiens d'avoir une meilleure connaissance est utile pour tous, et que nous gagnons tous à faire des efforts pour rendre plus fort le monde où nous vivons.
Dernière chose pour aujourd'hui, on m'a demandé le genre de musique que j'écoute et j'avais promis de vous donner quelques titres. Je ne travaille pas en musique, mais j'en écoute beaucoup. En ce moment, c'est Frank Sinatra (Watch what happens), John Lennon (Just like) Starting over, Gaetano Veloso (Beleza pura), George Michael (Kissing a fool), Charles Trenet (Y'a d'la joie), Charles Aznavour (Les comédiens), Tony Bennett (Fly me to the moon) et the Pretenders (Don't get me wrong).
PS : Mon superbe tailleur noir est d'Alejandra di Andia.